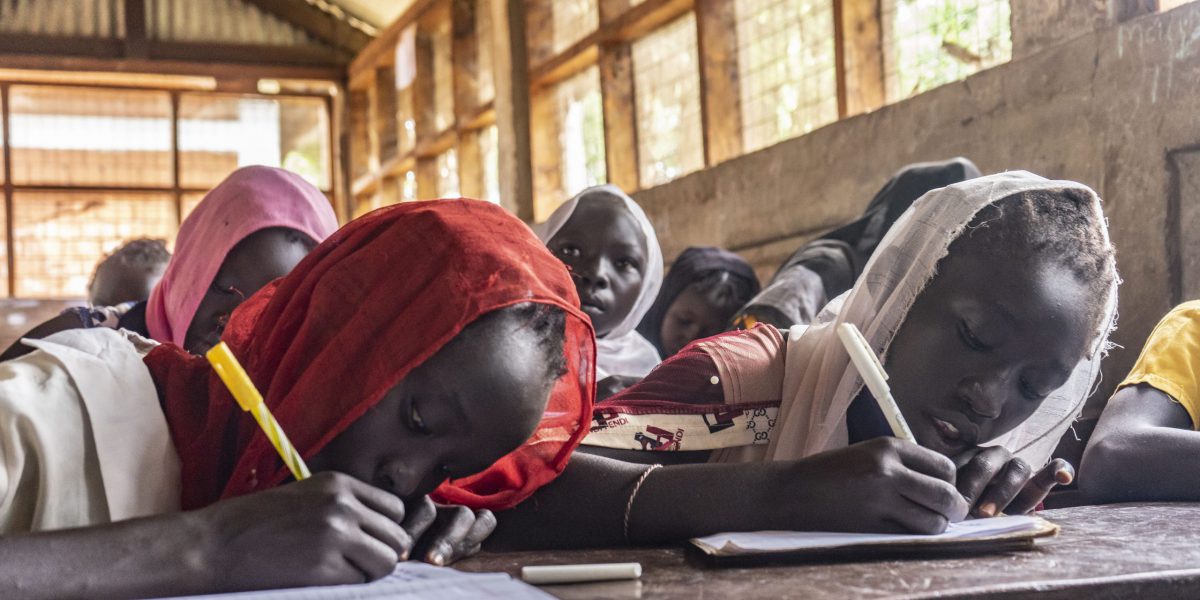 Barriers to education are particularly prevalent for girls, children from minority ethnic groups, with disabilities, and living in conflict areas. 
Girls face, in top of that, barriers to education caused by poverty, cultural norms and practices, poor infrastructure, violence and fragility.
The Jesuit Refugee Service in Eastern Africa is committed with compensating that gap, by supporting girls and women to get education in different ways:
We offer scholarships for girls in South Sudan, Kenya, Uganda and Ethiopia; we offer adult trainings with Day Care services to promote women attendance; we build girl-friendly schools, with separate latrines and changing rooms; we offer safe spaces for women in refugee camps, to protect them from threats of death or abuse; we offer mental health and group support trainings for women and men to sensitize about gender mainstreaming… and many more!
You can also make that happen. You can educate a girl, you can support a mother, you can train a woman, you can make them fulfill their dreams with the same opportunities as men have. 
SUPPORT JRS EAST AFRICA!
DONATE NOW, SO TOGETHER WE CAN KEEP ACCOMPANYING GIRLS AND WOMEN ALL OVER EAST AFRICA!
CONTEXT OF WOMEN AND GIRLS IN EAST AFRICA
Women and girls play a critical role within the society. But generally, and more specially in contexts of war and instability, they are not granted the same rights or opportunities as men are. 
And limitations to Education and livelihood activities are a big factor creating such disparities between men and women.
Eastern Africa in not an exception to that. 
In all Sub Saharian Africa, the different literacy rate of men vs that of women is significant: while a 72% of men are accounted as literate, only 59% of women are. 
When looking at the school adherence, the world medium adherence of girls up to last year of primary school is an 89% (89% of girls who start primary school reach the last year). However, when looking at Sub Saharan Africa, this percentage drops up to 67%. 
According to Habitat for Humanity, 67 million children worldwide, of whom approximately 53% are girls, do not have access to basic education currently.  If current trends continue, by 2030 just 4 out of 10 children of school age (1.4 billion children) in low- and middle-income countries will get up to secondary education levels of knowledge.  
Barriers to education are particularly prevalent for girls, children from minority ethnic groups, children with disabilities, and children living in conflict areas. 
Girls face barriers to education caused by poverty, cultural norms and practices, poor infrastructure, violence and fragility.
Sub-Saharan African countries often suffer from relatively unstable economies as well as conflicts and droughts which further worsen the educational crisis and poverty levels.
An educated workforce is essential for stimulating long term economic growth and reducing poverty in Africa (or anywhere else). That's why many organisations focus on developing countries where educational level is low but opportunities exist for high impact.
East African countries are "experiencing strong economic growth; however, secondary education enrolment rates (less than 20% for Uganda, Tanzania, Rwanda, and Burundi) remain low. In comparison, Kenya appears to "excel" in the region, with a secondary education enrolment rate of 33%.
ETHIOPIA
Women play a critical role  in Ethiopia. They are in all segments of society and undertake the majority of household related tasks.
"Over the last decades the contribution women make to society and economic growth in Ethiopia has  increasingly been recognized and appreciated. However, some challenges in achieving gender equality and women's empowerment remain and a lot of work still needs to be done."
Challenges on girls' attendance to school, women's health, female genital mutilation, early marriages, or gender-based violence are still a big fight in the country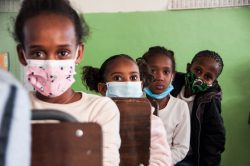 Approximatelly, only 44% of women are literate in the whole country (World Bank Data). Nearly twice the amount of girls are out of school compared to boys (400K boys compared to 1.5M girls), and out of those who go to school, only 39% arrived to the last year of Primary Education.
Early marriage and pregnancies are also a challenge: it is considered that more than 6% of the girls between 15 and 19 years old have had a child.
UGANDA
"The Gov. of Uganda has made significant progress in developing legal frameworks to protect women's human rights and advance gender equality." However, "women in Uganda  still face discrimination & marginalization  due to slow change in attitudes about women in Ugandan society. Also, several key legal reforms have been pending for decades regarding family laws or sexual offenses against women. There are deep-rooted  cultural and traditional practices that discriminate against women and girls."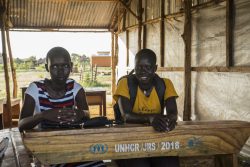 "Violence against women remains a major obstacle to the empowerment of women"
The literacy rate  for women in Uganda is around 71%, which is kind of high compared to the rest of the continent. However, only 36% of girls who enroll in Primary school reach the last year of education, and more that 11% of girls between 15 and 19 get pregnant. 
KENYA 
"The constitution of 2010 provides the legal framework for the government to fulfill basic rights for women. However, women still face great challenges." "Female poverty is exacerbated by  gender based violence, including sexual violence, rape, physical violence and sexual harassment. Women's empowerment is hindered by  polygamy, early marriage and harmful cultural and traditional practices such as female genital cutting" and other believes about the role women and men should carry in the Kenyan society.

SOUTH SUDAN 
The long war suffered in South Sudan "bred a culture of violence that still pervades" "These conflicts disproportionately affect women and girls." "The enormous rate of illiteracy in the country affects specially women, whose illiteracy rate is more than double than that of men. This supposes a big burden for women to make a living by their own and to participate in governance at all levels. However, the South Sudanese women are actively participating in peace talks and playing an important role.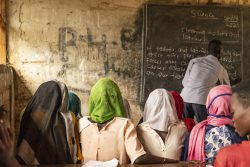 Nonetheless, "Traditional practices such as early and forced marriages subordinate women and girls. Sexual and gender-based violence is prevalent."
The literacy rate among women in South Sudan is the lowest in the region, only 29% of women over 15 years old are able to read and write, and the net school enrollment for both boys and girls does not go above 39%.