Interview with François Akilimani, young Albino from DRC
19 March 2022
|

Paula Casado Aguirregabiria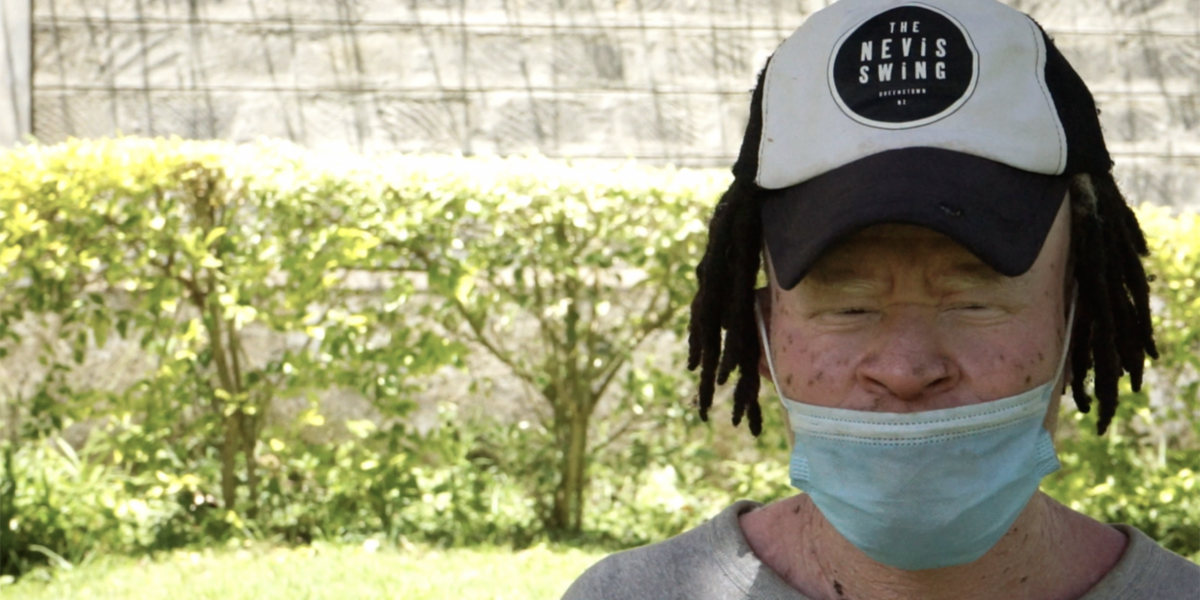 Refugee from DRC who fled from the albino-huntings and just received a scholarship to study in Nairobi.
François ran away from his country after the killing of his (albino) younger brother. Due to the big insecurities and in front of such a traumatic experience, he ran to Uganda.
In Uganda he met Tutapona, our partner in the country, specialized in trauma and healing processes. Soon after that he moved to Nairobi (Kenya) where he has recently benefited from a scholarship to learn carpentry and be able to make a living out of it.
His biggest challenge in Kenya has been to find a place where to sleep. Being hosted by some colleagues or friends occasionally, is complicated to get settled in a same place for various days without being kicked off. For that reason, the scholarship offered by JRS Kenya is in a boarding Professional School, so he does not suffer for where he will sleep tonight.
He explains us a bit of his story:
I left my country running away of the killing of albinos. There are terrorists from Tanzania, Burundi and DRC who practice the killing of albinos… And one day they killed my younger brother, who was also an albino. They cut his head in front of me. His name was Olvier, Olivier Babunga.
I just had to run away.

I left on a 13th July 2015. I left Bukavu with a boat named Emmanuel, crossed the Kivu Lake and went up to Bunaga city, just in the frontier with Uganda. I found lots of challenges on my way!! There were people trying to bother, to rob… lots of difficulties… until I managed to reach Nyakabande Transit Camp, thought for Congolese traversing.
After the killing of my brother in my eyes… and the harsh things I had encountered on my journey, when I arrived to Uganda I had lots of stress. I was traumatized.
François Akilimani
When I left the transit camp I was relocated to Rwamwanja Refugee Settlement Camp, and there I found Tutapona. They do not give material assistance, but psychological. They listen you, they counsel you… Everything! They teach you how to live again with the community, with no traumas.
They helped me a lot! In Uganda I had lots of stress… my heart was hurt. And thanks to Tutapona, I've been able to have a peaceful life after that.
In Uganda I encountered many issues with the government since they have no protection plan for albinos and refuse to assist them. I went to the Human Rights Commission to seek for help.
Me and few more albino colleagues I had met in there, Richard, Chantelle… we left Uganda I moved directly to Nairobi (Kenya) in 2016.

Here I cannot live as I was living back home… at home I have a mother, brothers and sisters… but here, I am alone and life is complicated. But I could not go back… there are lots of insecurities, and these are never finishing. The people who was looking for me to kill me, they are there still. I cannot go back…

When I reached Nairobi I encountered JRS. They have been assisting me since then offering me sun-cream to protect my skin, for example. Now they offered me a scholarship to go study into a professional training school, for what I am very grateful!! These studies will help me have a better life in here. I really appreciate the accompaniment JRS has been offering me.

Now, I have peace of mind, in comparison with when I first reached Uganda. Maybe here there are people who can give me some trouble of mind, but thanks to all this process, I handle it and now I am simply calm.
Currently, François has been given resettlement and lives in Northern America.