JRS Kampala skilling refugees and host community members
24 May 2022
|

Agnes Asiimwe, Livelihoods Coordinator JRS Kampala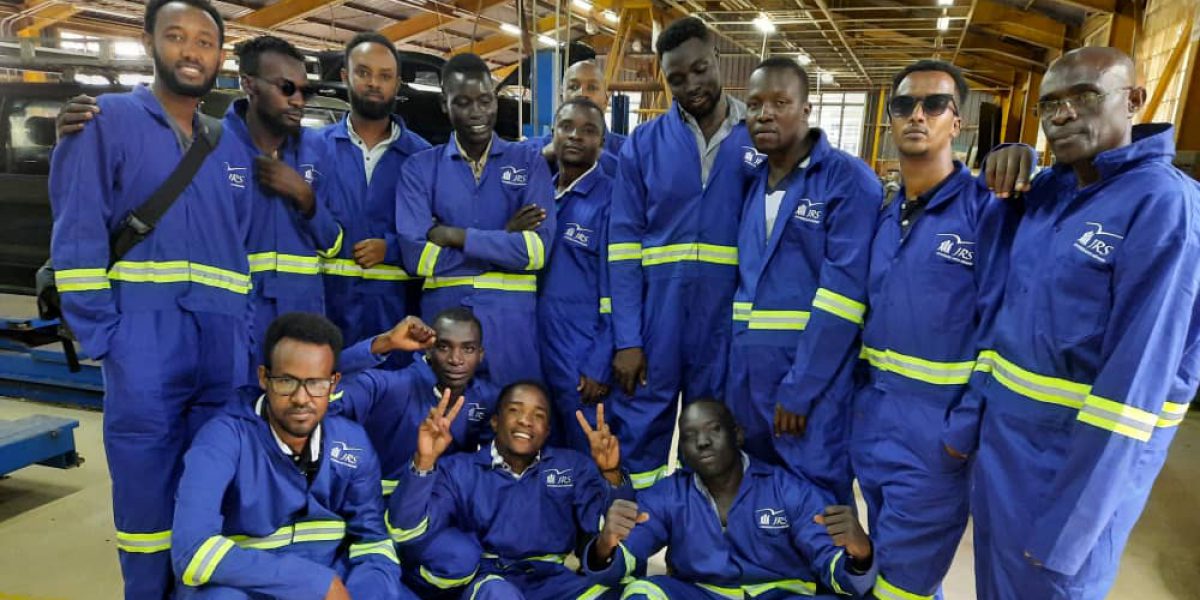 JRS sponsored Mechanic students in their protective gear after practical class in the garage at Nakawa Vocational Training College, May 2022 (photo credit class coordinator Ismail) 
In 2020, JRS Kampala entered the Memorandum of Understanding (MoU) with Nakawa Vocational Training College sponsoring students in self-sustaining skill in electronics repair and maintenance (Radio, TV, Domestic home appliances, Computer and Mobile phones repair). The college is leading in Vocational Skilling for empowerment and transformation development registered by the Ministry of Education and Sports (MoES) in Uganda. 
This year JRS considered expanding the partnership sponsoring 20 more students in Automobile (Motor Vehicle) growing the number to 40 (20 electronics and automobile respectively) based on the labour market and the need of this skill in Uganda. Perhaps also as a durable solution when they return to their country of origin.  
JRS supports the program paying tuition, training materials, protective gears, industrial training, National Certification (DIT) of students and transport. 
During the training students will also be introduced to entrepreneurship training that provides insight into the challenges as well provides students with the knowledge required to plan, start, and manage their small businesses. Afterwards, JRS links them to small grants graduating a trial activity aimed at discovering who is an entrepreneur among students and scale-up. 
The 20 students comprised of 19 men and 1 woman were selected from refugee and host community in Kampala. Nationalities include: Burundi, Uganda, Eritrea, South Sudan, Sudan, and Ethiopia. 
The tailor-made hands on course for JRS students will take 8 full months – 6 months at Nakawa, 2 months industrial training in different garages a round Kampala for exposure in the industry and linkage to employment.