Ngongo's story, Mikono supplier
18 October 2022
|

Paula Casado Aguirregabiria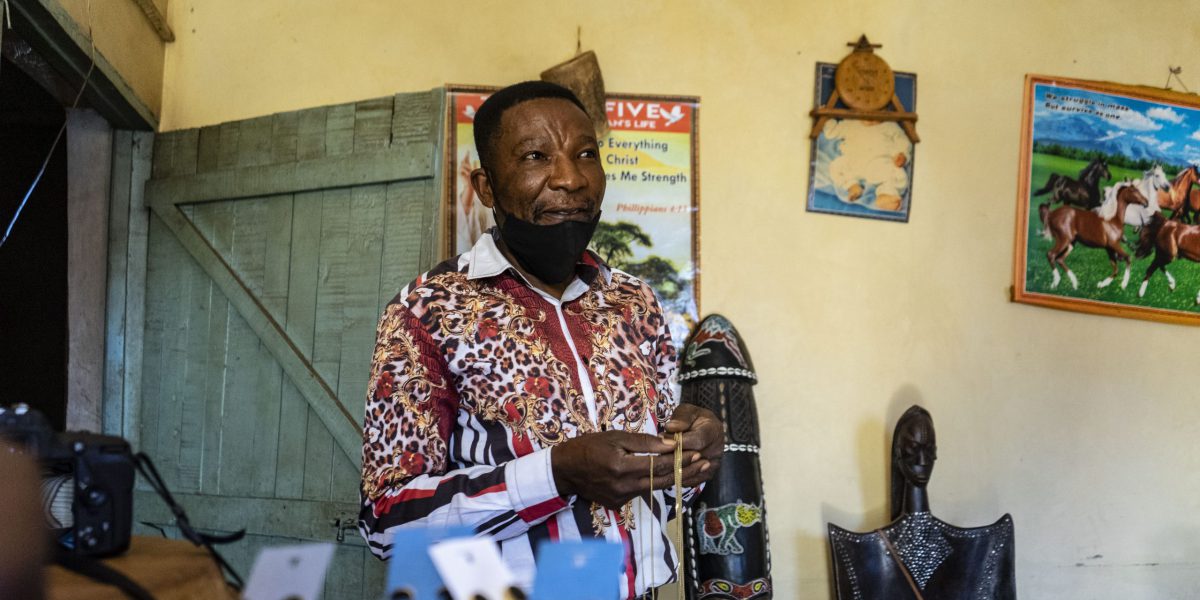 Ngongo is a 52-year-old Congolese refugee living in Nairobi. He escaped DRC in early 2000, running away from political persecution. The reason? He belongs to the extended family of one of the regime main opposition leaders. So, running away from political repercussions, he had to escape the country.
He walked to the frontier with Uganda, where he could take a lory that brought him to Nairobi, where he is still today. Once in Kenya he met a Kenyan woman who now is his wife and mother to his four children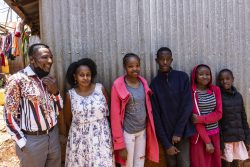 "I would like to return to my country, of course. But I will only be able when insecurities end, and that is not yet the case. Now, I cannot go. In Congo people dies every day, since the beginning of times… By famine, by violence, by the war…. There is no way for me to go back"
He did not travel to Kenya alone, but he was accompanied by the four children to his sister. One of whom died in 2007 Kenya post-electoral violence. When being asked about his sister, he says he has had no communication with her since they flew Congo, where she stayed.
"I don't even know if she is still alive…. I have not been able to be in touch with her ever since".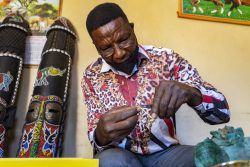 Ngongo defines himself as a designer and an artisan. He started crafting wood and doing wood furniture when he arrived in Kenya, and in 2005 he started learning jewelry skills thanks to JRS training.
He knew about JRS in 2003, when he started producing wood items for Mikono shop. It was only few years after when he learned the jewelry skills and JRS could provide him with the working utensils, when he started providing the jewels he still sells today.
Currently, he has a workshop where he works the wood and a room in his house where he works on the jewels.
One item that characterizes his jewels is the use of the Turquoise rock, original from DRC. The beautiful color of the rock and his amazing skills result in unique, gorgeous jewels, like necklaces, earrings, and rings.
He puts his soul in every peace he does. And he ensures the use of quality materials that cannot harm the user's skin nor will get spoiled with the pass of time.
The money I receive by selling my items in Mikono through JRS is very, very helpful to me. […] I use it to pay the school fees to my children, the rent, the food… I am very grateful to them and to all those who buy my products
Ngongo
"I really thank the people who, through JRS, has purchased my items. It's been already nearly 20 years bringing my items to JRS and Mikono has helped me a lot. Also, in Corona time they were very supportive… they always walked with me."
When asking him what he wishes for the future, he talks about his children. He wants them to pursue major education and be able to become great professionals in the future.
ank Mikono clients, and I pray for JRS to continue doing the job they are doing with us… Thank you."
Ngongo
Photo credits: Paula Casado / JRS Eastern África