Serge, an Academically Gifted and Pen Artist
17 April 2023
|

Rosette Komuhangi, Communications Officer JRS Uganda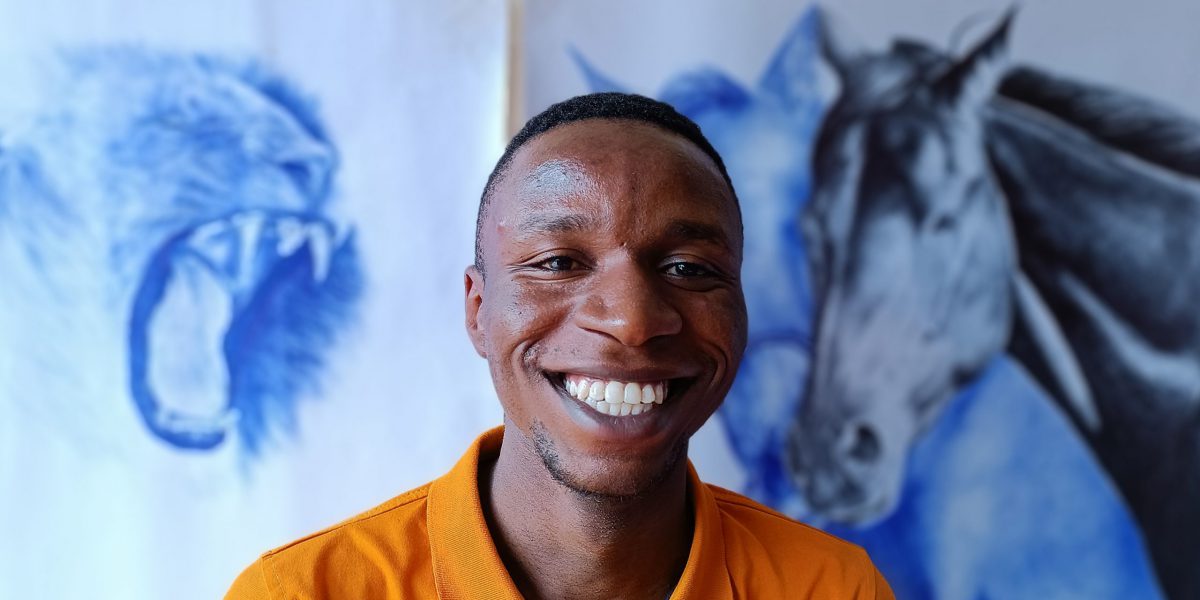 Serge Lumbule is a 23yr old Congolese refugee living in Kampala, Uganda.  Serge recently excelled in the Uganda Advance Certificate of Education exams, scoring 19 out of the 20 points.  His journey as a refugee has been quite a ride.  He fled to Uganda in 2009 after he and his family survived an attack by gunmen who were looking for his father.
He began his refugee journey when he was really young and barely remembers what happened the night of the flight. He was told that trouble begun in 2005, when gunmen attacked their family looking for his father, a goldminer. That his father had fled to a place none of the family members knew. In 2009, the gunmen attacked the family twice hoping to get information from them about the father's whereabouts and killed both his grandparents and aunt. This not only traumatized the rest of the family but forced them to flee since it was obvious the attackers were relentless and would return to shoot more family members.
Serge says the journey is a blurry memory and only remembers when he was told that they had reached Uganda.
In Uganda, he relocates that life was not easy because they had no friends or relatives to support them to settle in. In his words, 'life was a nightmare to us with no food, but we tried to survive as the birds in the air'. With little to no resources to survive, they registered as refugees.
Life was a nightmare to us with no food, but we tried to survive as the birds in the air.
Serge Lumbule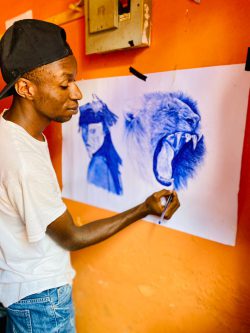 As time went by, the young Serge needed to start school but had no school fees or any basic knowledge of English the language of instruction in Uganda. He was enrolled in the English course at Jesuit Refugee Services, in Nsambya. He excelled at the course and was sponsored to start primary school. At the school assessment, Serge performed very well that instead of starting in primary one, he was found fit to start in primary five. At the end of the national primary final exams, he scored aggregate 8 (the best is 4 points) toping his class. He was again sponsored for Ordinary level Certificate at Ocer Campion Jesuit College in Gulu where he also excelled scoring 11 aggregates (the best score is 8). In 2019, again on scholarship, Serge enrolled in Crested Secondary school in Kampala for the Advanced level certificate and performed exceptionally well. An achievement he credits to his hard work and the assurance of school sponsorship from JRS. Serge had this to say:
Getting such opportunity to study without interruption, it became clearer in my mind that this was the only chance for me to become a better person and not a scrap collector in the streets.
Serge Lumbule
Serge is very grateful to the support he and his family has received from JRS beyond the scholarship. They have received support in form of food supplies, hospital bills and training in basic skills. In his own words:
I cannot thank God enough for the people who make sacrifices every single day to see someone like me, a refugee, attending school and the general support that JRS offers refugees like me.
Serge Lumbule
Serge is not only a brilliant young man but is also a gifted pen and pencil artist. He draws portraits, visual and abstractart which he sells to substantiate his family income.  He hopes to pursue a course in civil engineering at the university. According to him, the combination of art and engineering makes him a dynamite. He is currently living with his mother and four siblings.